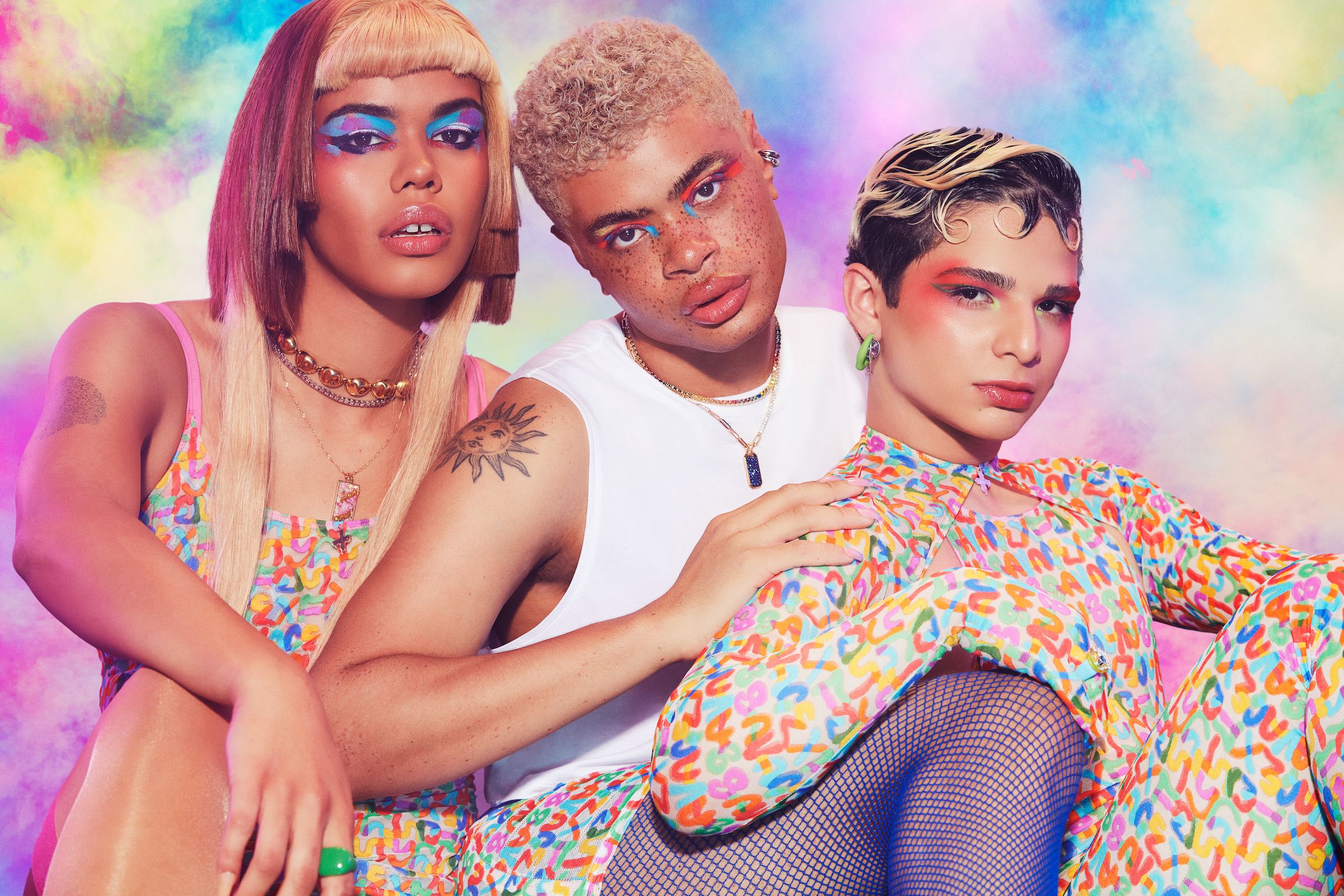 In the lingerie and intimate apparel business, Rihanna's Savage X Fenty brand has set the path for diversity and inclusivity. A new collection called "Nothin' But Net" is being released to celebrate the company's fourth anniversary.
Savage X Fenty, Rihanna's lingerie line, has just released a Pride collection in honor of Pride Month 2022. The collection is available in sizes XS through 3XL, with prices ranging from $16.95 to $99.95. It was released on June 7, 2022, and can be purchased through the label's official e-commerce site.
The Spring/Summer 2022 collection has a short-sleeved button-up bowling shirt and matching underwear with a branded waistband, as well as comfy and laid-back style options made of sheer fishnet fabrics.
Championing all body types, the SXF motto declares that the brand has: "Something for every mood, every vibe, and everyBODY." Additionally, a "Romance in Bloom" collection that features lace and the brand's Savage Not Sorry signature styles is also launching in new colorways.
Men's necessities such as sleepwear and underwear are available in a variety of colorways, including lime green and black.
Since its launch in 2018, Savage X Fenty has released two Pride collections, the first of which was released last year. Show Your Colors, Forever Savage, Tagged by Savage, and Carnival Mesh are the four ranges available this year. These are labeled as U Cute, On The Reg, Damn, and Black Window under four Savage X Personas.
Honey Balenciaga, Plastique Tiara, Armiel Chandler, Lilli Johnson, Shaheem Anderson, and Xoai Phan are among the LGTBQIA+ celebrities featured in the Pride Month 2022 campaign.
The website of Savage X Fenty, which introduces the collection, says,
"A celebration of the vibrancy and diversity of the LGBTQIA+ community, this campaign is here for everybody. Authentically embracing your individuality with style is at the core of Savage x Fenty and the Pride collection showcases that in full effect."
For L.A. residents, there will be a physical release: Rihanna's lingerie label will put up a Pride truck in Los Angeles from June 11 to June 12, 2022. The site's introduction to the truck service debut reads,
"Roll up to our Savage x Pride truck in L.A. and choose from a menu of bold styles renamed as iconic sweet treats."
Moreover, the label will donate $100,000 to Rihanna's Clara Lionel Foundation (CLF), which will be distributed to the For The Gworls group, which assists black trans persons, which she founded in 2021.
Savage X Fenty Foundation 
Rihanna and TechStyles Fashion Group (the same company that created Kate Hudson's Fabletics) teamed up to launch Savage x Fenty online in 2018. Rihanna's celebrity power and the lingerie business's inclusive approach helped the lingerie brand acquire traction quickly.
With more than $300 million in investor capital, Savage spun off from TechStyle in 2019 to become a stand-alone company as it continues to develop into other categories, including men's.
The digital company established its first physical store in Las Vegas in January. More than a half-dozen locations have opened since then, including in the Los Angeles area, Houston, Washington, D.C., and Philadelphia.
The revelation that Savage x Fenty was going to open a flagship in west Brooklyn, N.Y.'s Triangle Building near the Barclays Center was first revealed by WWD in February.
Our Top Picks from the Savage X Fenty Pride Collection 2022 
Carnival Mesh Cami, which retails for $39.95.
Monogram Voile Sleep Shirt, which retails for $64.95
Tagged by Savage Lace Slip, which retails for $49.95
Show Your Colors Seamless Teddy, which retails for $49.94
Monogram Voile Sleep Pant, which retails for $59.95
Show Your Colors Seamless Catsuit, which retails for $74.95
Tagged by Savage Lace Garter Belt, which retails for $32.95
Tagged by Savage Lace Catsuit, which retails for $89.95
Forever Savage Plunge Teddy, which retails for $59.95
Carnival Satin Smoking Jacket, which retails for $99.95
Carnival Playsuit, which retails for $59.95.
Carnival Tricot Teddy, which retails for $84.95
Continue Reading:
5 High-End and Luxury Lipstick Dupes