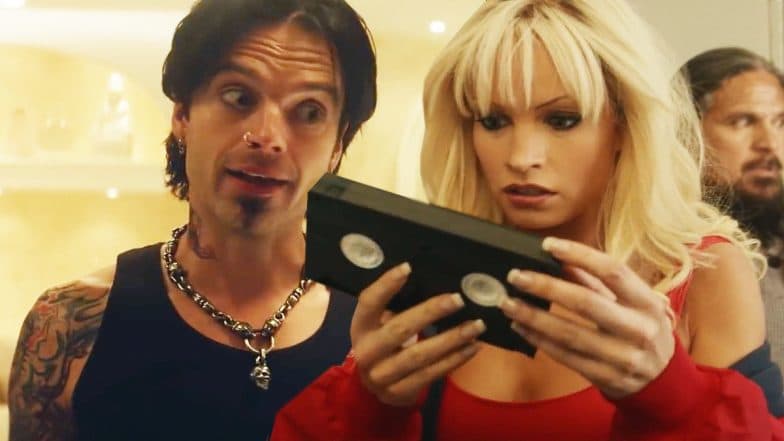 Pamela and Tommy's private-turned-public debacle, which began in the 1990s and persisted into the 2010s, was the first viral sex tape in the Internet age, demonstrating the terrifying power of the Internet. The married actress and Mötley Crüe drummer had to deal with endless media attention, lawsuits, and other controversies of becoming the country's cultural obsession once their tape was stolen and leaked.
Pamela & Tommy, a new Hulu series, is based on a true story, including a 2014 Rolling Stone article by Amanda Chicago Lewis titled "Pam and Tommy: The Untold Story of the World's Most Infamous Sex Tape."
What was the Pamela and Tommy Sex Tape?
Pamela Anderson (of Baywatch fame) and Tommy Lee (of Mötley Crüe) shot an hour-long home film of themselves having sex in the mid-1990s, then locked it away in a safe. They didn't expect the world to know about their private video, but their then-electrician Rand Gauthier made it public.
Gauthier and his team were sacked in 1995 after months of work on the couple's home for alleged shoddy workmanship, and the couple refused to pay for the work previously completed. When Gauthier and his team came to get their tools one last time, Lee drew a revolver and instructed them to leave. According to Gauthier, the electrician began hatching his plan at that point.
Gauthier snuck into Pamela and Tommy's garage five days before Halloween and stole Lee's safe. The details are unclear may or may not have had partners that night–but one thing is for sure: Gauthier had Anderson and Lee's sex tape among his possessions.
Gauthier unlocked the safe and went to a porn studio to see the cassette recording.
"We put it in and see what it is, and of course, cha-ching. The dollar signs fly before our eyes," he told Rolling Stone back in 2014. "But we're going, 'This is the kind of thing people will get killed over.'"
The Pamela and Tommy tapes were then sold online and in Los Angeles by Ingley and his associates. When Lee and Anderson discovered the safe and video were missing in mid-January 1996, Pamela and Tommy sent people (read: a biker gang and lawyers) to track down Ingley and Gauthier. However, by that time, it was too late for the public to see the tape.
"Word came" to Lee and Anderson, according to Rolling Stone, that Penthouse had the tape. Pamela and Tommy filed a $10 million lawsuit against the magazine on March 26, 1996, seeking a temporary restraining order and a permanent injunction, as well as lawsuits against everyone they felt, had the tape, including Ingley and Gauthier, to prevent anyone from sharing the footage.
FAQs about the Pam and Tommy Series
When will Pam and Tommy be released?
Pam & Tommy launches on Hulu on February 2, 2022, at 12 a.m. PT / 3 a.m. ET with the first three episodes.
When will new Pam & Tommy episodes be available?
From February 2 to March 9, new Pam & Tommy episodes will be uploaded on Hulu on Wednesdays at 12 a.m. PT / 3 a.m. ET.
What is the best way to watch Pam& Tommy online?
Pam & Tommy is available to watch on Hulu, which has two subscription options: an ad-supported plan for $6.99 per month or $69.99 per year (saving subscribers roughly $14 on the monthly pricing) and an ad-free plan for $12.99 per month. Hulu+ With Live TV, Hulu's live TV service, costs $69.99 per month for an ad-supported plan and $75.99 per month for an ad-free plan.
Hulu also offers a $1.99 per month student discount on their ad-supported plan (saving users $5 per month or $60 per year).
How to watch Pam & Tommy for free on the internet
So, how can you watch Pam & Tommy for free online? You can watch it on Hulu free trial, click to know how.