Try some of our most famous Easter recipes to spice up your holiday menu. These recipes are sure to please, with anything from Easter dinner ideas to sweet, seasonal desserts.
Fresh, vibrant foods that will excite everyone at the table, whether carnivore, vegan, chocolate-obsessed or completely gluten-free, are required for this spring celebration. All the easter recipes you need are right here, from an eggy Italian Easter bread to a stunning leg of lamb, with lots of green salads and vegetable dishes, as well as festive cakes for dessert.
Easy and Lip-smacking Easter Recipes
Deviled Eggs
This is one of our favorite Easter recipes for a reason. These deviled eggs are definitely the best you can make, due to the use of herbs. Bacon, chipotle peppers, and crab are among the delicious variations of the dish.
Ingredients
1/2 cup mayonnaise
2 tablespoons 2% milk
1 teaspoon dried parsley flakes
1/2 teaspoon dill weed
1/2 teaspoon minced chives
1/2 teaspoon ground mustard
1/4 teaspoon salt
1/4 teaspoon paprika
1/8 teaspoon garlic powder
1/8 teaspoon pepper
12 hard-boiled large eggs
Minced fresh parsley and additional paprika
Directions: Combine the first 10 ingredients in a small bowl. Remove the yolks from the eggs and set the whites aside. In a separate bowl, crush the yolks; add to the mayonnaise mixture, and stir well. Fill egg whites with filling by spooning or piping it in. Garnish with parsley and more paprika, if preferred. Refrigerate until ready to serve.
Lamb Chops
We love Lamb chops, and this simple recipe is a simple way to prepare them. We've also tried grilling this lamb chop recipe and had fantastic success.
Rub the herbs and salt over the lamb chops. Refrigerate for 1 hour after covering.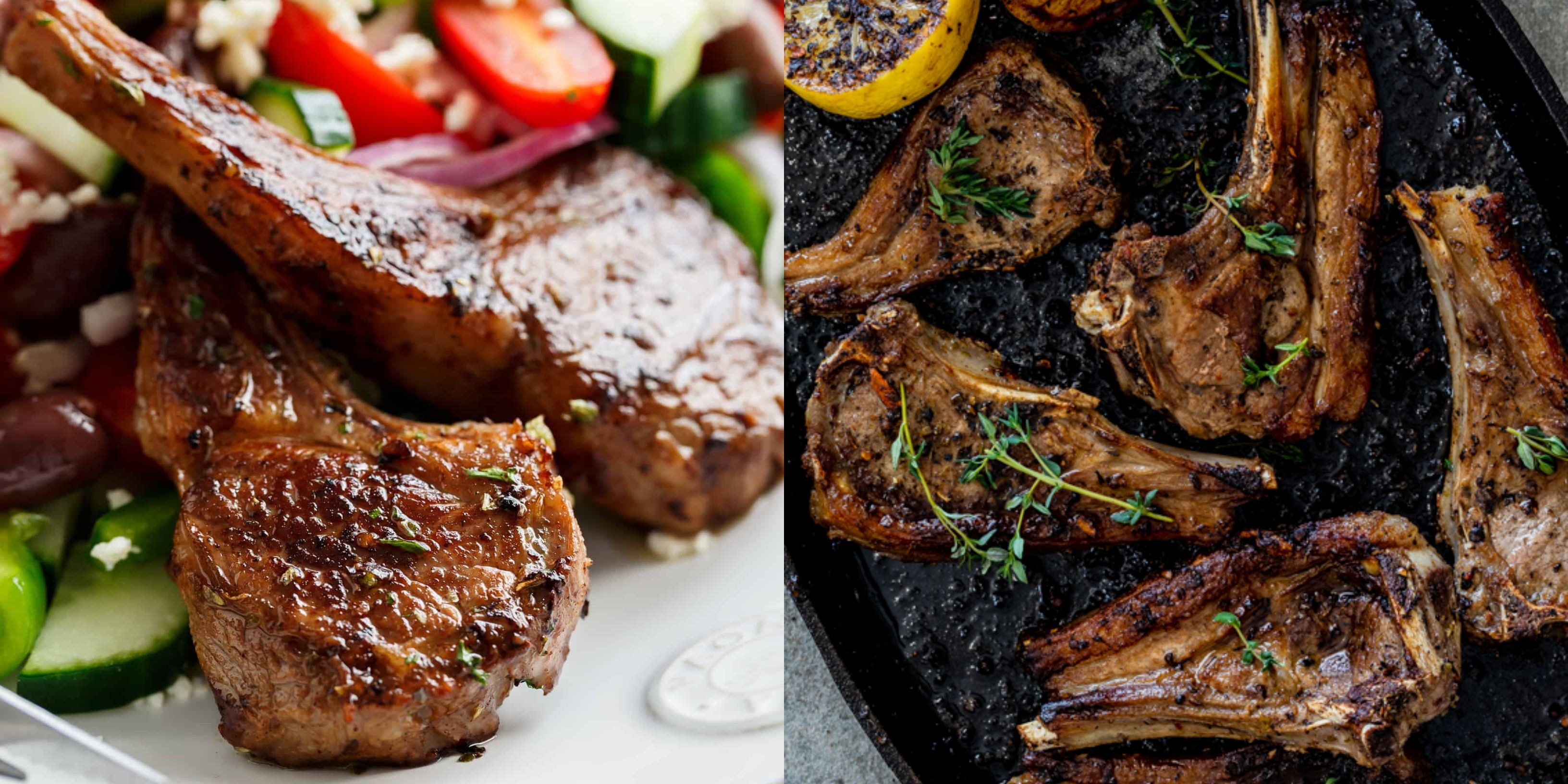 Ingredients
1 teaspoon each dried basil, marjoram and thyme
1/2 teaspoon salt
8 lamb loin chops (3 ounces each)
Mint jelly, optional
Directions: Broil 5-8 minutes on each side, 4-6 inches from the flame, until meat reaches desired doneness (a thermometer should register 135° for medium-rare, 140° for medium, and 145° for medium-well). If preferred, serve with mint jelly.
Lemon Pound Cake
This delicious dessert is a hit with everyone, and it won't last long at your house. It also freezes well, so make two and store one in the freezer for another time.
Ingredients
1 cup butter, softened
3 cups sugar
6 large eggs, room temperature
5 tablespoons lemon juice
1 tablespoon grated lemon zest
1 teaspoon lemon extract
3 cups all-purpose flour
1/2 teaspoon baking soda
1/4 teaspoon salt
1-1/4 cups sour cream
Icing:
1/4 cup sour cream, room temperature
2 tablespoons butter, softened
2-1/2 cups confectioners' sugar
2 to 3 tablespoons lemon juice
2 teaspoons grated lemon zest
additional grated lemon zest, optional
Directions:
Cream butter and sugar in a large mixing basin until light and fluffy, about 5-7 minutes. 1 at a time, add eggs, beating well after each addition. Combine the lemon juice, zest, and extract in a mixing bowl. Combine the flour, baking soda, and salt; alternately add the flour mixture and sour cream to the creamed mixture. Only mix until everything is well blended.
Fill a greased and floured 10-inch fluted tube pan halfway with batter. Bake at 350° for 55-60 minutes, or until a toothpick inserted near the middle comes out clean. Allow to cool in the pan for 10 minutes before transferring to a wire rack to cool fully.
To make the frosting, whisk together the sour cream and butter in a small dish until smooth. Add confectioners' sugar gradually. In a mixing bowl, combine the lemon juice and zest. Drizzle the glaze over the cake. Top with more grated lemon zest if desired. Refrigerate any leftovers.
Scalloped Potatoes
Make something special to go with heavy main courses and your easter celebrations! This is the best-scalloped potato easter recipe we've ever tried, and your family will love it when you make it for Easter dinner.
Ingredients
2 tablespoons butter
3 tablespoons all-purpose flour
1 teaspoon salt
1/4 teaspoon pepper
1-1/2 cups fat-free milk
1/2 cup shredded reduced-fat cheddar cheese
2 pounds red potatoes, peeled and thinly sliced (about 4 cups)
1 cup thinly sliced onions, divided
Directions:
Preheat the oven to 350 °. Melt butter in a small saucepan; whisk in flour, salt, and pepper until smooth. Whisk in the milk gradually. Bring to a boil, stirring frequently, and cook and stir for 2 minutes, or until thickened. Remove from heat and toss in the cheese until it is completely melted.
Using cooking spray, coat an 8-inch square baking dish. Half of the potatoes should be in the dish, followed by 1/2 cup onion and half of the cheese sauce. Layers should be repeated.
Bake for 50 minutes, covered. Uncover and bake for another 10-15 minutes, or until bubbling and potatoes are tender.