Tesla, founded by Elon Musk, is the most valuable auto manufacturer in the world. It is now working on several innovations that will alter the future of the automobile and energy industries. Tesla has filed 361 patents in the fields of electric vehicles, vehicle design, solar roofs, user interfaces, battery packs, EV chargers, and other technologies.
Tesla started seven years ago that it would not file patent cases against anyone who wished to use its technology in good faith. The objective of the policy is to encourage the development of a common, quickly growing platform for electric vehicles.
Tesla filed a new patent application for the lithium extraction technique last year, which may lower prices by more than 30%. Drew Baglino, senior vice president at Tesla, said, "We are going to use a new process that we will pioneer. It is a sulfate-free process again, we skip the intermediate. It will result in a 33 percent reduction in lithium cost."
Tesla Stock Inflation
The cost of Tesla vehicles is increasing. Although investors dislike growing product prices, the stock wasn't taking a hit on Tuesday.
A rear-wheel-drive Tesla Model 3 now costs around $47,000, up from around $45,000, according to the company's website. Long-range and performance models with dual motors are now at $54,500 and $62,000, respectively. These rates increased by around $3,500 and $3,000, respectively.
The price of a long-range Model Y has risen to almost $63,000, up from $59,000 previously. The performance model now costs around $68,000, up from $64,000 earlier.
The price hikes appear to be in the range of 4% to 7%. A request for comment on pricing details was not immediately returned by Tesla.
The price hikes come a day after Elon Musk, the business's CEO, tweeted that the company is "seeing significant recent inflation pressure in raw materials and logistics."
This isn't Tesla's or the EV industry's first price increase. Tesla raised its prices many times in 2021. However, the stock did not suffer as a result of this. After gaining by more than 740% in 2020, Tesla stock increased nearly 50% in 2021.
In 2022, the stock impact of price rises should be greater. These days, investors are more concerned about inflation.
In early trade, Tesla's shares were up around 1%. The S&P 500 and Dow Jones Industrial Average were both up approximately 0.7 percent.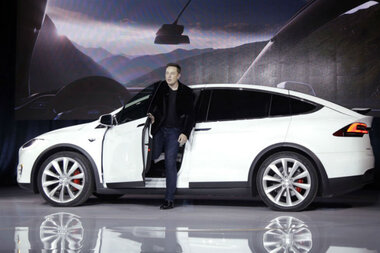 Since many inflationary pressures are already reflected in Tesla's stock price, it isn't a negative stock move. Tesla stock had dropped nearly 9% in the previous two trading sessions when trading began on Tuesday. Furthermore, the stock is down almost 38% from its 52-week high of $1,243.49, set in November, and down around 27% year to date.
5 Latest Innovations of Tesla in addition to Electric Cars:
Powerwall
Tesla's Powerwall is an integrated battery system that stores solar energy for backup protection while also reducing reliance on the grid. The device detects power shortages and automatically recharges with sunlight.
Solar Roof
Tesla's Solar Roof tiles are the industry's first of their kind. Its solar roof tiles are three times stronger than normal roofing tiles and are designed to withstand all types of weather. A 25-year warranty is included. Tesla claims that its "in-house team of energy professionals have installed more than 3.6 GW of clean solar energy across 4 lakh roofs, the equivalent of 10 million traditional solar panels."
Electric Vehicles Charging Stations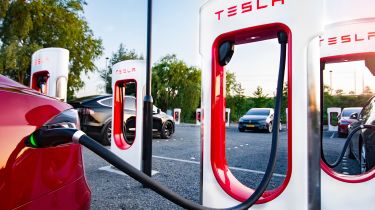 As the demand for electric vehicles grows, it is becoming increasingly important to establish charging infrastructure. Tesla is now leading the pack in terms of building cutting-edge chargers for its electric vehicles.
Tesla Gigafactory
Tesla plans to increase production to 5 lakh cars per year to accelerate the world's transition to sustainable energy through increasingly affordable electric vehicles and energy goods. Tesla's Gigafactory will be able to meet the company's projected vehicle demand.
Solar Panels
Tesla Solar Panels transform sunlight into energy and can be put on existing roofs with a minimal appearance. It is covered by a 25-year warranty. When you order its solar panels, the crew takes care of the necessary permissions and installations.