Non-fungible tokens (NFTs) have evolved into a new type of investment, expanding the scope of digital collectibles. NFTs are exclusive and hence expensive due to their unique and rare characteristics, which are built on blockchain technology.
The Bored Ape Yacht Club (BAYC) was one of the most well-known NFT collections that dominated the trends in 2021, and it continues to do so. The Ethereum blockchain was used to produce an exclusive collection of over 10,000 unique apes dressed in trendy and funky outfits and standing against colorful dazzling backgrounds.
Yuga Labs established the Bored Ape Yacht Club in April 2021, and since then, the price and appeal of NFTs have risen in the realm of digital artworks. Colors, facial expressions, and clothes are all customized for each Bored Ape. While one ape is brown, shaven, and wearing sunglasses, another is dressed in leopard print and has rainbow-colored teeth.
The craze for buying BAYC collectibles spread from digital platforms to auction houses after it gathered around USD 2 million in its early days. Sotheby's sold two lots of 107 BAYC and 101 Bored Ape Kennel Club (BAKC) NFTs for over USD 24 million and over USD 1.8 million, respectively, in 2021.
Famous Celebrity NFT Owners
Justin Bieber
Justin Bieber is one of the most recent celebrities to join the Bored Ape Yacht Club, having purchased BAYC #3001 on January 29, 2022. The NFT was priced at 500 ETH, or roughly USD 1.3 million.
Many BAYC fans said that the pop star overpaid for the Bored Ape's very common traits and characteristics, such as brown fur and a black tee. To the Canadian vocalist, none of this mattered.
Eminem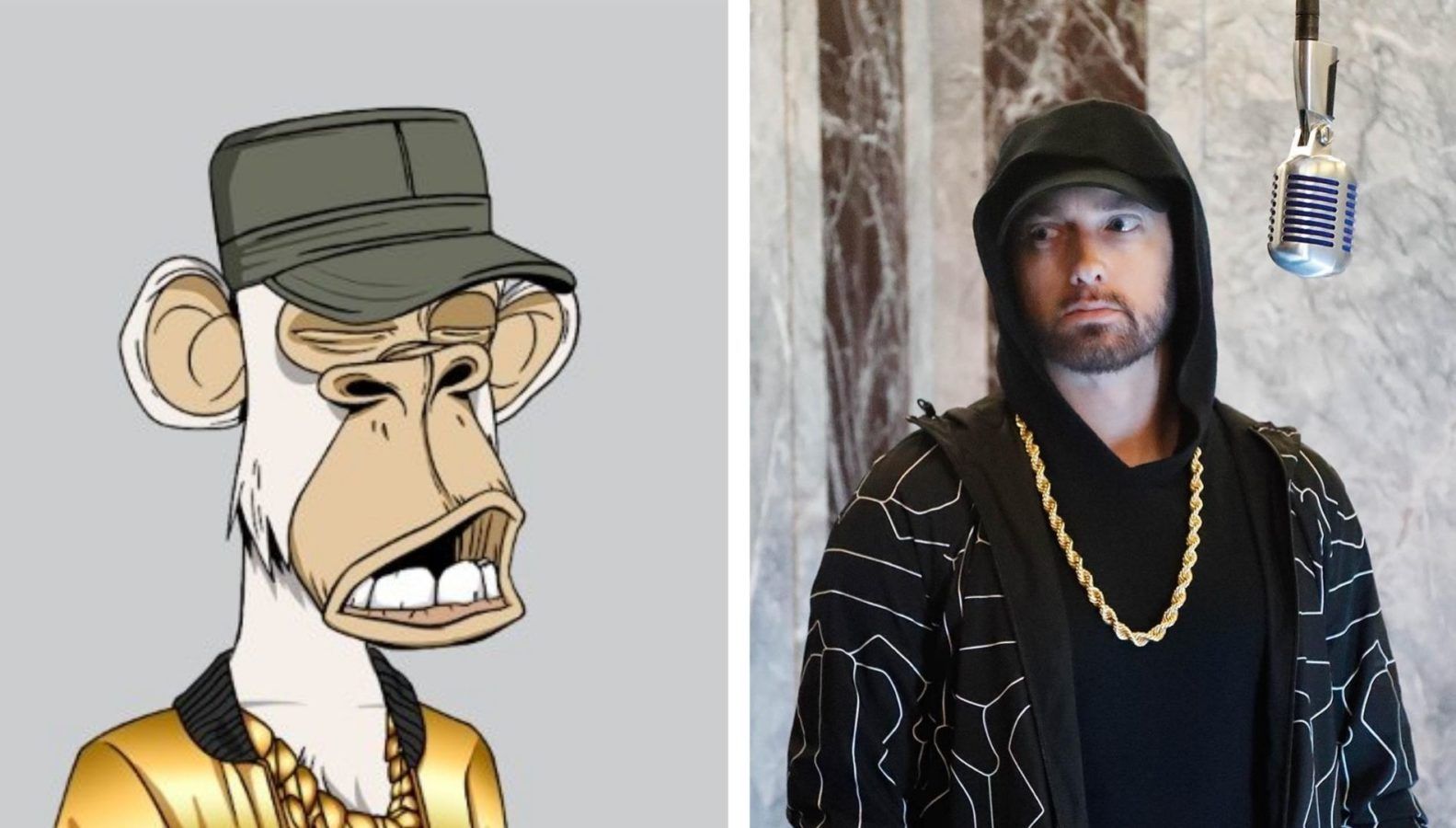 Another celebrity to get his Bored Ape is rapper Eminem, nicknamed Marshall Mathers. He got it from Twitter user @Gee Gazza, who had openly expressed his desire for Eminem to own one.
Eminem purchased BAYC #9055 in January 2022 for 123.45 ETH, which was valued at approximately USD 400,000 at the time. A gold chain, a golden jacket, and a cap are among the NFT's numerous stylish features.
Snoop Dogg
Snoop Dogg, an American rapper and NFT collector, purchased four Bored Apes in December 2021. BAYC #7723 was included, as well as a BAKC and two Mutant Apes. CryptoPunks, Artblocks, and XCOPY, among other high-value NFTs, are among the rapper's investments. Snoop Dogg's Cheetah fur Bored Ape features some unique features, such as a pink fur coat and a smoking cigar.
Paris Hilton
Paris Hilton, an American media celebrity and actress, purchased her BAYC long before other celebrities could join in the fun. She has been vocal about investing in NFTs since she sold her blockchain-based artwork in 2020.
She recently went on The Tonight Show to discuss her BAYC #1294, which she purchased for 119 ETH (about USD 275,000 at the time). Red fur, black shades, and a chained cap are worn by the Bored Ape.
Neymar Jr.
Neymar Jr., regarded as one of the top football players in the world, has also established himself in the NFT space. Neymar surprised his 55 million Twitter followers by announcing his Bored Ape debut in January 2022 with two NFTs — #5269 and #6633. On both Twitter and Instagram, he uses the latter as his profile picture. It has a bubble gum mouth, holographic eyes, and a party hat #2.
Post Malone
The Bored Apes #961 and #9039 were purchased by the American rapper. The former was featured in a music video with The Weekend called "One Right Now." A brown cowboy hat, blue glistening teeth, and rainbow suspenders constitute the latter.
Post Malone bought the Bored Apes, according to MoonPay, although the rapper hasn't published any information about it on his social media platforms.
Continue Reading:
5 Best and secure investment plans in 2022