According to diplomats and officials, Finland is set to announce its intention to join Nato on Thursday, with Sweden likely to follow shortly after, as Russia's invasion of Ukraine reshapes European security and the Atlantic military alliance.
Five diplomats and officials told Reuters that Nato allies expect Finland and Sweden to be given membership swiftly, paving the path for increased troop presence in the Nordic region during the one-year ratification process.
Boris Johnson, the British prime minister, promised on Wednesday to defend Sweden and Finland against any Russian threats as he traveled to both countries to sign mutual security agreements in the run-up to their Nato membership. Norway, Denmark, and the three Baltic states are already Nato members in the larger Nordic region, and the addition of Finland and Sweden would likely enrage Moscow, which sees Nato expansion as a direct threat to its security.
The issue has been cited by Russian President Vladimir Putin as a reason for his actions in Ukraine, which has expressed a desire to eventually join the alliance. Moscow has also repeatedly warned Finland and Sweden against joining the alliance, threatening "serious military and political consequences".
When asked if joining Nato would provoke Russia, President Sauli Niinisto responded it would be Putin's responsibility. "My response would be that you caused this. Look at the mirror," Niinisto said.
For its "barbaric" war in Ukraine, European Commission President Ursula von der Leyen warned on Thursday that Russia was the "most direct threat" to the international order.
Von der Leyen and European Council President Charles Michel are in Japan for talks on Russia's invasion of Ukraine, as well as growing concerns about China's role in Asia and beyond.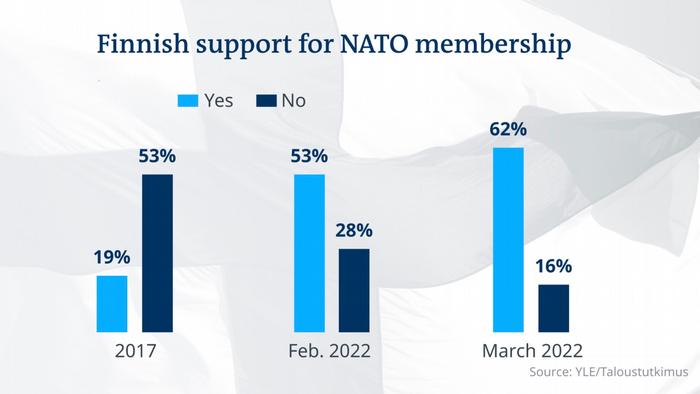 Russia "is today the most direct threat to the world order with the barbaric war against Ukraine, and its worrying pact with China," she said during discussions with Japanese Prime Minister Fumio Kishida.
On the frontlines, Ukraine announced on Wednesday that it had pushed Russian forces back in the east and cut off gas flows via Russian-controlled territory, heightening the prospect of an energy crisis.
NATO's key members, led by France and Germany, have made it clear that they do not want Ukraine to be included. It's a viewpoint that's hardened now that President Volodymyr Zelensky's government is engaged in an active shooting war, one that the US and the other 29 members of the alliance would be obligated to enter directly if Ukraine were a full member, covered by the alliance's core promise that an attack on one member is an attack on all.
Mr. Zelensky recognizes this dynamic, and after a few weeks of fighting, he dropped his demand that Ukraine is admitted to NATO. In late March, a month after Russia's invasion and when there was still hope for a diplomatic solution, he stated that if a lasting end to the war could be achieved, he was willing to declare Ukraine a "neutral" state.
Mr. Biden was relieved by those statements, as his priority is to get the Russians out of Ukraine permanently, but his second priority is to avoid World War III.
It has, however, blamed Mr. Putin for invading a neighbor and thereby brought NATO expansion upon himself. The White House press secretary, Jen Psaki, paraphrased Finland's president, Sauli Niinisto, who stated that Ukraine has forced the Finns to reconsider their security. "You caused this," Mr. Niinisto said of Mr. Putin. "Look at the mirror."
According to Ukraine, tens of thousands of people were likely killed in Mariupol. As per Ukrainian authorities, between 150,000 and 170,000 of the city's 400,000 population still live in the ruins.
Read More:
Interesting Facts about Kamala Harris