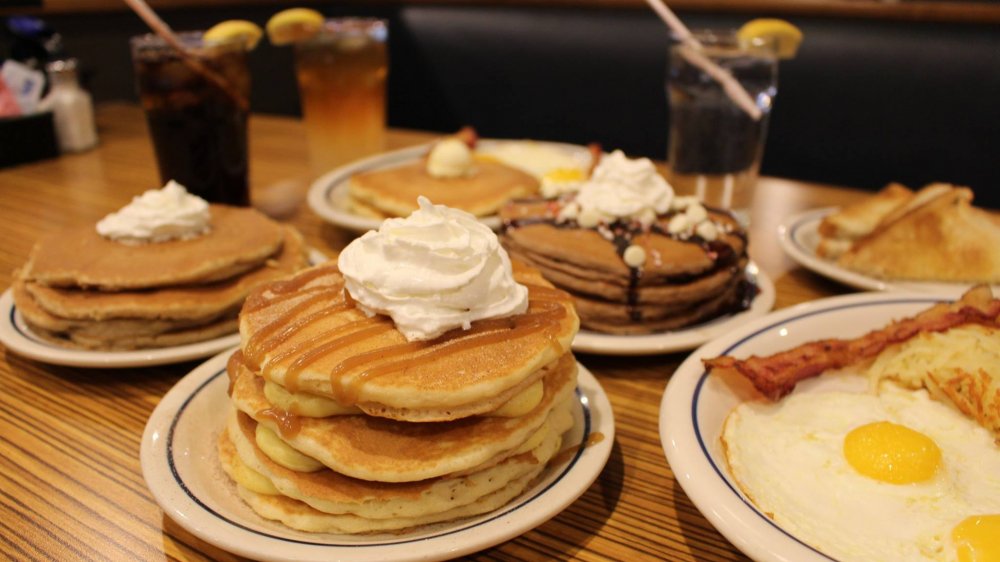 IHOP is probably the first place that comes to mind when you think about pancakes. IHOP Pancakes are the best when it comes to pancake cravings. It's the "home of all things breakfast and everything delicious," and the chain's World-Famous Pancakes are no exception. IHOP's flapjacks are legendary—fluffy and always piled high with delicious toppings. However, as you might expect, some solutions are better for your general health than others. Certain IHOP pancakes are simply high-calorie, sugar-laden treats, while others aren't quite as unhealthy.
After listing down the 5 most delicious orders at IHOP, we went ahead and looked at the IHOP pancakes (and crepe!) options. The pancakes at IHOP were ranked from best to worst. We just looked at the nutritional breakdowns for the pancakes themselves, not the side items.
IHOP Pancakes – Ranked Best to Worst
IHOP Buttermilk Pancakes short stack:
IHOP Pancakes 3 per serving – 450 calories
There's nothing wrong with a classic, and IHOP's Buttermilk Pancakes are precisely that. In comparison to the other pancake options on the menu, the short stack has the fewest calories and the least sugar.
IHOP Swedish Crepes
590 calories
These crepes are covered with lingonberry butter and sweet-tart lingonberries. Lingonberries are similar to cranberries. They are high in antioxidants and may be beneficial for weight loss. In fact, one study found that mice who got 20% of their calories from lingonberries weighed 21% less and had 21% less body fat than mice who had the same amount of calories from a high-fat diet without the berries. Lingonberries for the win! If you are not in a mood for IHOP Pancakes you should definitely try these crepes out.
IHOP Double Blueberry Pancakes
620 calories
Double is one of those menu terms that usually raises an eyebrow because it signifies "more." The blueberries are doubled in these IHOP Pancakes because they are loaded with berries and topped with blueberry compote. By skipping the compote and whipped cream, you'll save 16 grams of sugar right away.
IHOP Strawberry Banana Pancakes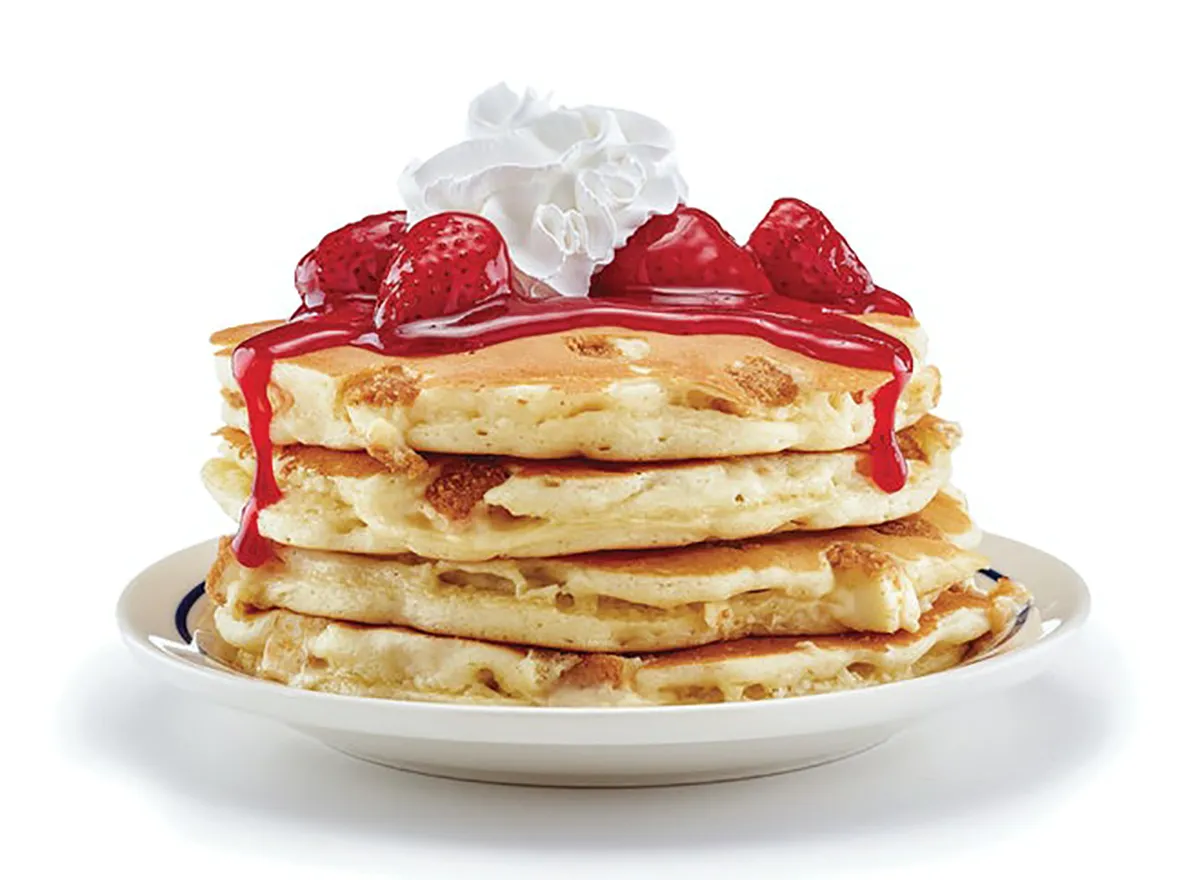 680 calories
Strawberries and bananas—now that's a breakfast match made in heaven! Fresh banana slices are stuffed inside the IHOP pancakes, and they're topped with them, as well as glazed strawberries. Instead of this syrupy, sweet, saucy topping, the pancakes should have fresh strawberries as a topping.
IHOP Mexican Tres Leches Pancakes
700 calories
A vanilla sauce and a dulce de leche caramel sauce are placed between four buttermilk pancakes. Clearly, IHOP enjoys putting together the whole dessert-for-breakfast idea! Split an order with friends if you want to try these—one pancake per person isn't bad! That way, you may round out the meal with a serving of nutrient-packed eggs and sausage.
IHOP Harvest Grain 'n Nut Pancakes
800 calories
Harvest Grain 'N Nut Pancakes had a ton of potential. They're topped with whipped real butter and stuffed with oats, almonds, and walnuts. However, the half gram of heart-harming trans fat in this dish is problematic, as it is recommended that people consume no trans fat or as close to zero as possible.
You don't want to start your day with trans fat since it boosts LDL, or "bad" cholesterol, and lowers HDL, or "good" cholesterol.
IHOP Strawberries and Cream Crepes
700 calories
Crepes are frequently mistaken for thin IHOP pancakes but don't expect they'll be any less caloric intake. Glazed strawberries (rather than fresh strawberries) and a vanilla cream drizzle complete this meal.
IHOP Chocolate Chip Pancakes
760 calories
Hey, we're not here to tell you what the best time is to eat chocolate. So, if you want to sprinkle a few chocolate chips on your pancakes occasionally, go ahead. Chocolate batter is used to make these chocolate chip pancakes, which are then filled with chocolate chips and finished with a drizzle of chocolate syrup and more chocolate chips. What an example of a chocolate overdose! It's no surprise that it contains the same amount of sugar as six and a half Hershey chocolate bars.
If you truly want to eat chocolate chip IHOP pancakes, go for the buttermilk batter option and skip the toppings.